Floating Pool Skimmers


"A floating pool skimmer is pool cleaner that cleans the swimming pools surface"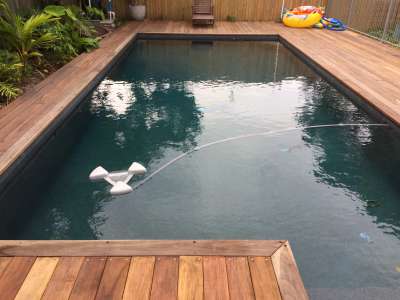 Its main objective is to remove all the debris before it sinks
People usually start looking for some type of surface cleaner after they become frustrated at manually scooping leaves out of their pool. Their bottom cleaner is doing a good job at cleaning most of the swimming pool floor, but it can take a few days for the leaves to sink to the bottom.
A fixed skimmer box will remove some surface debris but often the skimmer box is not positioned in the best spot in the pool. This is where a floating skimmer can assist with removing surface debris.
Floating pool skimmers act as a mobile skimmer box
If your swimming pool is continually covered in leaves or other debris, a floating pool skimmer is a way to increase the power of your skimmer box. The floating pool skimmer can travel with the wind, but it acts like a drain in a bath tub gently drawing the water in from 360 degrees.
As your fixed skimmer box is on the wall it doesn't have the "bath tub" effect of being able to pull all the waters surface from 360 degree. Its still effect but not as effective as floating pool skimmer.
Floating pool skimmers improve the circulation of the waters surface
The top 450mm of your swimming pools surface is the hottest and therefore the dirtiest as bacteria thrive in the heat and heat also evaporates chlorine.
There are a number of different floating pool skimmers on the market. If you google floating pool skimmer, pool skimmer or surface skimmer you will find many options.
The Dragonfly Floating Pool Skimmer has the following benefits
No extra nets etc required
Made from sturdy UV resistant Luren S plastic
Quite and once set up little interaction required
Will remove small twigs, large leaves and small seed pods.
If the floating pool skimmer you choose is effective, you will not require any kind of bottom cleaner, possible just giving your swimming pool a light vacuum every couple of weeks.
If your pool cleaner is not coping with the influx of leaves, insects, dust or other debris, a floating pool skimmer could be your solution.
For further information some of these articles and links may be of interest
What is a floating pool skimmer
Do you have algae in your swimming pool?
Using an inline leaf canister with an automatic pool cleaner